1976 "German" MK2 RS2000 Escort
The flagship of RSM, I've owned this car since April 1988. It's probably one of the longest serving Group C Escorts and has had a distinguished career since it arrived here over 30 years ago. Originally raced by Bruce Hodgson, it then passed through Graham Mein and Garry McGrath, until it was sold off to private buyers at the end of Group C in 1984. It was another 4 years and two more owners before it finally ended up in my hands.
In the many years that I've had it, it's had numerous rebuilds but mostly spent it's days sitting forlornly in sheds and garages. Since 2006 it's been rebuilt to it's original race specification as it was at Bathurst 1979. The car has it's Certificate of Description from CAMS and has regular outings at local and interstate historic race meetings. 
This is the story of chassis #18271.
1976
18271 arrived in Australia from Germany in March 1976, along with 24 other MK2 RS2000's. You couldn't buy an RS2000 in Australia then, why you couldn't even get a 2L in the MK2 Escort yet. They weren't available until 1977, and the Australian RS2000 was still a couple of years away (1979). Ford was a factory sponsor in the Australia Touring Car Championship (ATCC) and was running a range of cars – Falcon's, Capri's and Escort's at the time with drivers such as Moffat, Bond, Holden and Hodgson.
Ford had already imported 25 of the MK1 RS2000's in March 1975 from England, and the newly released MK2 RS2000 seemed like the next step in the evolution.
Why 25? It was to comply with the CAMS rules of the day for Group C Production Touring Cars, which incidentally was the country's top category of sedan based motorsport. Taken from the CAMS manual of the day:
ELLIGIBILITY: Cars recognized as Australian Touring Cars, which, if of FIA Group 1, must be one of at least 25 cars complying with the recognition documents imported into Australia. If manufactured in Australia, before 1975, they shall be one of at least 500, and if after 1974, of at least 1000, basically similar units.
Bruce Hodgson was at this time a Ford Factory driver. He'd been racing and rallying Escorts for years and was "allocated" one of the MKI RS2000's in 1975. He's also piloted Falcons in the London-Sydney rally in 1968 and was given one of the legendary GTHO Phase IV XA Falcons as a rally car in the early 1970's.
For the MK2 RS's, Bruce had requested two cars – one to race and one to rally. This he duly received from Ford Australia for a token amount, and he then drove them back to his home at Griffith in south-west NSW. The proposed rally car remained road registered for a while and was used for pace note generation before being turned into a full fledged Group G rally car. 18271 was destined to be the race car. After only 3107 km it ended up at the local body shop in Griffith to be painted up in it's new racing colours.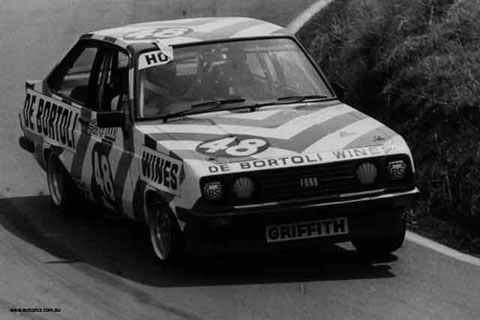 I asked Bruce how the blue & red stripes came about, and it was a typical Bruce response. He took the car down on Monday and said he's be back the following week to pick it up. When the bodyshop asked what he wanted, he replied "Oh, just something distinctive", and left it at that. When he returned a week later, there it was in all it's glory. Bruce had links with the local winery De Bortoli, so the winemaker became the major sponsor for the car. 18271 became affectionately known as "the De Bortoli Wines car" or "the Zebra car". It was a good partnership as the car became well known over the years for it's truly distinctive paintwork. Even today people still remember the car and the sponsor.
Bruce had significant commitments in varying forms of Australian motorsport, so 18271's first race was Bathurst 1976. The details of that event are as follows.
Bathurst 1976 Statistics

| | |
| --- | --- |
| Date | 3rd October 1976 |
| Entrant | De Bortoli Wines Pty Ltd |
| Drivers | Bruce Hodgson & Dave Morrow |
| Car No | 48 |
| Start Position | ??? |
| Lap Time | 2min 45.9sec |
| Outright Position | 23rd |
| Class Position | 8th in class |
| Finish Laps | 142 |
| Finish Time | 7hr 07min 41.0sec |
In 1976 their run was fair with the car finishing well down in the placing's – but finishing!
Taken from "Racing Car News – October 1976
"Generally, Ford Escorts fared much better than any expert predicted, finishing first, third, seventh & eighth. Veteran (don't hate me, mate) Bruce Hodgson, who had teamed with Dave Morrow and De Bortolis Wines in a candy striped MKII version, ran hard and well – but two problems cost this car a probable second place.
The first was a driveshaft, shortly after two o'clock, in which Bruce had to push the car into pit lane. The repair was done quickly but a piece of metal had lodged in a tyre which went flat just as the car re-entered the track.
Bruce ran back from Hardie Ferodo Corner for a jack and spare, rather than risk being stuck part way around the circuit. The combination of the pit lane and trackside stops cost more than half an hour and the car was posted eighth at the finish."
1977
As we moved to the next year of competition, the only race 18271 did was again Bathurst.
Bathurst 1977 Statistics

| | |
| --- | --- |
| Date | 2nd October 1977 |
| Entrant | De Bortoli Wines Pty Ltd |
| Drivers | Bruce Hodgson & Dave Morrow |
| Car No | 56 |
| Start Position | ??? |
| Lap Time | ??? |
| Outright Position | Run not classified (insufficient laps) |
| Class Position | Run not classified |
| Finish Laps | 107 |
| Finish Time | 7hr 07min 41.0sec |
In 1977 it was the famous "1-2 Moffat/Bond" finish. Each year they show that footage of the two cars coming across the top of the mountain, down Conrod and across the finish line. If you look carefully behind the two Falcons is a little striped Escort – that's 18271. Bruce recounted to me that he caught the two Falcons across the top of the mountain on the last lap (as they were going slow). He knew it was the last lap and that they were running 1-2 on the road, and sensed that this would be quite a moment in history. So he tagged along behind and made sure the Escort was tucked in nicely behind the two cars as they crossed the finish line. The ironic thing is that for 1977 the Escorts' run was "run not classified" as due to mechanical problems, they had only covered 107 laps and not he minimum 75% required to be classed as a finisher.
Nevertheless you can see the car in the Channel 7 footage of the day, and it ensured it's place in history.
1978
Another year, and again the Escort was to run only one race, Bathurst.
Bathurst 1978 Statistics

| | |
| --- | --- |
| Date | 1st October 1978 |
| Entrant | De Bortoli Wines Pty Ltd |
| Drivers | Bruce Hodgson & Dave Morrow |
| Car No | 54 |
| Start Position | 46 |
| Lap Time | 2min 59.5sec |
| Outright Position | 28th |
| Class Position | 7th |
| Finish Laps | 130 |
| Finish Time | 6hr 48min 05.4sec |
Taken from the "Hardio Ferodo Bathurst 1978 Book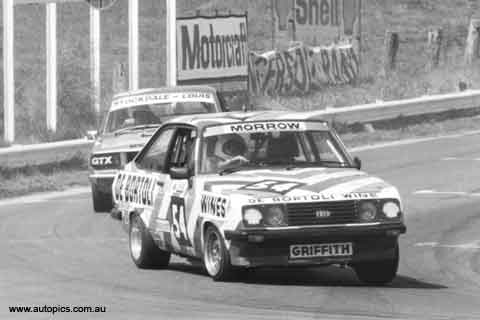 "One of the most striking looking cars in the event was the Bortolis Wines Escort of long-time Ford stalwarts Bruce Hodgson & David Morrow, both from New South Wales. They started from fifth place on the grid with a time of 2m 59.5s. Bruce quickly moved up into fourth place by lap nine, and took over third position when Chris Heyer pitted the Golf. "Hodo", as he is affectionately known, pitted on the fifty-first lap to take on fuel and a change of disc pads while co-driver David Morrow strapped himself aboard. It appeared that brake problems continued, gradually dropping them down the field into seventh place by the one hundred lap mark, a position they held to the finish. Indeed, a very impressive run."
1979
After Bathurst 1978, Bruce had decided it was time to part company with 18271. In late 1978 another long time Escort stalwart, Graham Mein decided to purchase the car from Bruce. Graham was in Ballina on the northern NSW coast and at the time of sale agreed to meet Bruce half way in north-western NSW to pick up the car.
Graham arrived at the designated pick-up place on time, but Bruce turned up over 3 hours late. Graham didn't know it at the time, but Bruce's delay had been due to his detour via Ray Cutchie's workshop, where the original German "EB" cylinder head was removed and replaced with a normal Australian head.
Graham took the car back to Ballina where he promptly started driving the car in the "local" ATCC rounds at Surfers Paradise, Lakeside and Amaroo. Once again 18271 made it's now annual pilgrimage to Bathurst on the first weekend in October.
Bathurst 1979 Statistics

| | |
| --- | --- |
| Date | 30th September 1979 |
| Entrant | De Bortoli Wines Pty Ltd |
| Drivers | Graham Mein & Geoff Russell |
| Car No | 55 |
| Start Position | 41 |
| Lap Time | 3min 05.8sec |
| Outright Position | 28th |
| Class Position | Run not classified (insufficient laps) |
| Finish Laps | approx 100 |
| Finish Time | n/a |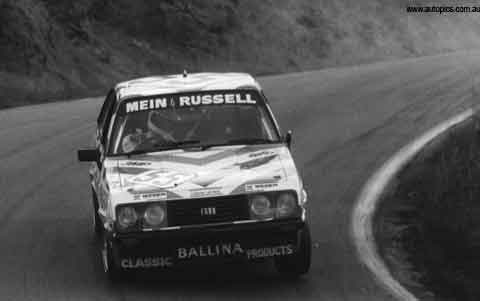 Taken from the Hardio Ferodo – The Bathurst 1979 Book
"Second at Sandown in class, and as enthusiastic as any Queensland team entered, was the De Bortoli Wines entered multi-striped ex-Bruce Hogdson car for Graham Mein and Geoff Russell. This car would probably end the weekend with the "most frustrated" award – but this was early days.
The first of the Fords was Mein, the De Bortoli car down the grid at 3m 05.8s, 3.6s ahead of the Bill Stanley/Ian Messner car. Neither crew was happy, the Mein/Russell car suffering brakes saturated with oil from the catch tank, et al.
On about lap 4, Mein ran into the pits – a mysterious misfire plaguing the car down Conrod. A lap later, the striped car arrived in the pits once more, this time to change the fuel filter….. and then back once again to sort out a badly earthing condenser……Geoff Russell began to suspect that his drive would be short.
Around lap 44 it started to rain. By lap 54 the Mein escort was running around 8 th in class. Shortly after, Mein pitted once again, a little dismayed as to their progress. Two laps later, the zebra striped car shot down the escape road to Bathurst, punching a hole in the barriers before handbraking and returning from whence he came….. immediately pitting to change the holed rear brakeline before returning to the fray.
At 1.41pm, with approximately half distance run, the IBM computer listed:
Mein/Russell 53 laps 46 th outright
At 2.58pm, Mein was back on 74 laps – with time running out.
At race end, the luckless Mein/Russell Escort was still running, but with insufficient laps to qualify as a finisher.
1980
1980 had seen some major changes in the rules for Group C. One of the most obvious was the allowance of the small cars to run 10" rims (up from the previous 8"). The A9X Torana had started the flared guards revolution, and with the allowed increased rim width, many cars of the day went to the wider rim/flared guard package. Graham was no exception, and 18271 now sported 13×10" Simmons with A9X Torana type flared guards. It was repainted in a more straight white with some red and blue strips running along the bottom of the car only, and for the first time after 4 years did not run De Bortoli wines sponsorship.
Graham had run the car extensively over the last year, so by the time they got to Bathurst the car was pretty well sorted. This bode well for them, and both they and the car ended up with their best ever finish.
Bathurst 1980 Statistics

| | |
| --- | --- |
| Date | 5th October 1980 |
| Entrant | Graham Mein |
| Drivers | Graham Mein & Geoff Russell |
| Car No | 45 |
| Start Position | 41 |
| Lap Time | 2min 51.1sec |
| Outright Position | 14th |
| Class Position | 2nd |
| Finish Laps | 142 |
| Finish Time | 6hrs 50mins 11.3sec |
Their qualifying time was no less than 14 seconds better than the previous year. At the end of the day, as Brock crossed the line in the new VB Commodore, the little Esky was 14 th OUTRIGHT, and 2 nd in class. An outstanding effort in anyone's books!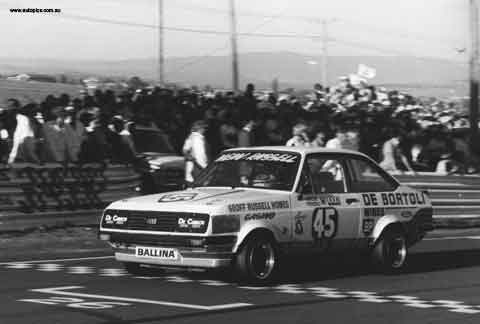 It didn't end there though. ATCC rules dictated that after each race the first three cars in each class had their engine's stripped to check for eligibility. The little Escort was found to have a non-complying cylinder head (remember the EB head that "went missing" on purchase). Graham argued that the Australian head was inferior to the German EB head anyway, and eventually the standing's were upheld and the placings confirmed .
Roll on 1981.
1981
Graham continued to run the car at the ATCC events and other series such as the XXX 300 to varying success.As Bathurst came around the little team from Ballina were feeling confident of another good run at Bathurst, but unfortunately their run ended around lap 31.
Bathurst 1981 Statistics

| | |
| --- | --- |
| Date | 4th October 1981 |
| Entrant | Graham Mein |
| Drivers | Graham Mein & Geoff Russell |
| Car No | 58 |
| Start Position | 50 |
| Lap Time | 2min 45.7sec |
| Outright Position | DNF |
| Class Position | DNF |
| Finish Laps | 34 |
| Finish Time | n/a |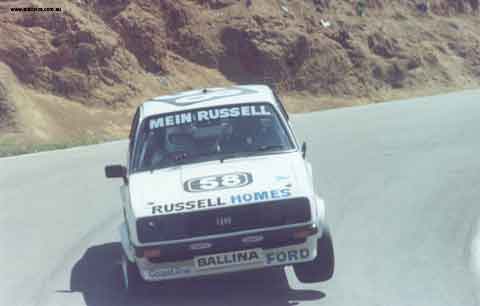 1982
In 1982, CAMS re-arranged the classes within Group C, with the result that the 2L class was amalgamated with the up to 3L class. Consequently we lost a lot of the smaller cars that year, as they were obviously not competitive against 3L Capri's and the like. 18271 sat out the whole year.
1983
Graham bought the car out only 3 times this year, twice to Surfers Paradise and once to Lakeside for ATCC and Endurance Championship races.
At the end of 1983, Graham was tossing up what to do with the car. Group C only had another year to run before Australia went to the new international Group A category in 1985. He decided to sell the car and another local, Garry McGrath from Casino bought the car. Gary had had a string of small Fords and he wasted no time in running the car.
1984
Garry took the car out 6 times through the year. After 8 years of competition 18271 was coming up for retirement. It's interesting to note that it's last race was a 3 hour endurance at Surfer's paradise, where it came first in class. A fitting end to a glorious career.
Life After Group C
Like many Group C car owners of the day, Gary pondered what to do with the car next. It would require extensive changes to get it to Group A spec, and it would be hopeless as a sports sedan. Many cars were wrecked for their competition parts, many were just turned back into road cars (after all it was an Improved Production category) and a lot of others were pushed quietly into corners of workshops and garages all around the country.
Gary decided to sell the car, to a gentlemen called Neville Goodrick who was living at Nerang at the time. Neville wanted to run the car in club events so had the body resprayed, took the flares off, and then promptly parked the car in the shed.
By 1986 it was just taking up space, so he decided to sell it. The following add appeared in the Courier Mail about March 1986.

A very good friend of mine, Peter Russell was into Escorts at the time, and rang me to tell me about the add. The following Saturday we drove down to Neville's house at Nerang and looked at the car. The deal went down very quickly and Peter drove 18271 home the following week. The first thing Pete did was to road register the car with the help of a friendly mechanic. The only change to get it road registered was to remove the slicks and put street tyres on it.
I remember many an evening chasing 5L Commodores down the Pacific Hwy with a little white Esky tucked up their rear end. It was lots of fun driving around in a car with a full roll cage, harness and 120L fuel tank in the boot. You couldn't do it today, but in 1986 you could get away with it.
Pete only drove it for a few months then parked it, and really did not do much with it until April 1988, when as you do, you sell the car to buy a house. And that's when 18271 and I became an item, and we've been that way ever since.
I drove it for a few months then parked it too. It ended up at a friends workshop for nearly 6 years, then an aircraft hanger for 3, until I had enough garage space of my own to store it in 1998. I was in Sydney then and I started and finished its second rebuild, then in 1999 joined the reformed Group C Touring Car Association. I took it out for a few track days where I couldn't get the smile off my face every time I drove it.
In 2001 we moved the family (including 18271) back to Brisbane, and it was here in 2002 it made a return to the racetrack at the annual July QLD Historics. It was a laugh to have the scrutineer put an entry in the log book 18 years after it's last race.
As Group C became a 5 th Category Historic race class, and the requirement for a CAMS Certificate of Description became mandatory, it was time for "The Final Rebuild". This time it was serious! The rebuild is covered in the rSM forum, and the car now makes regular appearances in historic races around the country.